Jonker Street, the Chinatown of Melaka, allures tourists with its flamboyance and charm. Jonker Street is among the most popular attractions in Malaysia and also a great place to visit. Whether you want to tease your taste buds with some of the best foods in Melaka, shop for boutique and souvenirs, or hit the museums among other attractions, you will find everything in one piece.
Below is a list of the top attractions around Jonker Street that are worth every splurge.
Baba Nyonya Heritage Museum
This old museum is a merger of 3 immersively structured houses tailored to look like a traditional 19th-century Baba-Nyonya dwelling. The townhouses were established in 1896, and after some few years, got transitioned into a traditional Peranakan museum for the locals sake and also drive more tourists to the area. The museum encompasses hand-painted tiles, neatly carved teakwood outer swing doors, and a more robust internal door for maximum security. 2 red lanterns, one etched with messages of good luck and another a household name, hang on both sides of the entrance. The stories told by the tour guides about the museum when it thrived back in the ancient times—are so amazing! Your 45-minute tour will be so worth it.
2. Jonker Walk Night Market
Almost all locals would agree that Jonker Walk Night Market is actually the best of them all in the country. The place is impeccably organized, boasting around an array of colorful stalls, great bargains, kind and friendly hawkers, and a live music coursing that keep guests entertained. All this makes everyone to be in a happy party mood, way more than you can imagine. Also, a string of bars is also evident around for those who wish to take their party mood to the next level. Food lovers can indulge in some of the most exquisite local delicacies like popiah, bak chang, and piping hot grilled meat. Checking out the live performances and the many stalls around also gives Jonker Walker Night Market an edge among its guests. Jonker Walk Night Market opens every Friday and Saturday, starting from 6 PM to 12 AM.
Cheng Ho's Cultural Museum
This sweeping gallery exhibits interesting materials that bring to life the generous contributions and posthumous works of Cheng Ho. The role he played in presenting the Emperor's child (Princess HangLi PO) to wed a Sultan of Melaka in the mid 15th century is worth every praise. In fact, this eventually brought about the creation and existence of The Baba Nyonya fraternity. The museum officially launched in 2006 and is established on the area of Guan Chang, an old warehouse established by Cheng Ho about 60 decades ago to store items he acquired from his expeditions. The museum locks in a wealth of evidence, more specifically about cultural trades between the Chinese and other neighboring ethnic groups. You'll also find tea houses, treasure ships, and other navigation gems that will pique your interest. If you're historical savvy, make sure not to miss the 15-minute video documentary based on Cheng Ho's cruises.
Cheng Hoon Teng Temple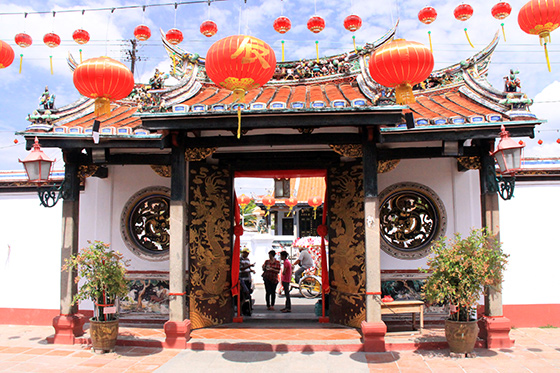 Established back in 1646,  this old temple  is the first and oldest Chinese temple based in Malaysia. The Temple stays as a pivotal place of worship for all Buddhists in Melaka, even to-date. Adored by many for its beautiful woodcraft, the place is strongly devoted to Guanying (The Goddess of Mercy). All the temples crafts and building materials were shipped from China, together with the craftsmen and artisans who helped construct it.
A robed effigy of Guanyin is evident in the main temple hall characterized by a mix of gold, black, and red colors. Awe-striking carved woodwork and dark timber adorn the main hall of the temple, while smaller chambers explicitly meant for ancestral worship are conspicuous everywhere. Also worth knowing, Cheng Hoon Teng acquired an Award of Merit from UNESCO for Asia-Pacific Heritage Conservation after its full restoration in 2001.
Hard Rock Café Malacca
Officially launched in January 2013, this chic café bears the same characteristics similar to most high-end chain's stores in the world—a bar, indoor and outdoor seating areas, a live stage and more. It also features a classic Rock Shop, which frequently sells Hard Rock Cafe Malacca memorabilia. The Straits Malacca-inspired patterned floor, and walls embellished with music memorabilia icons like Prince's white dinner jacket and Bruce Springsteen's signed guitar make the place look much appealing. As a result, the cafe frequents a crowd of music enthusiasts and food lovers all the time.
– A tip: Guests are recommended to check in before 9 PM to avoid the long ques and also order a delightful dish while enjoying the live band on stage.
There's an old saying that if you haven't visited Jonker Street, you haven't been to Melaka. Jonker Street will always be a top priority and a "must-go" all-time destination for people looking to discover Melaka in a somewhat different, yet very interesting way. Spend countless hours rocking up the many food stores, antique shops, and old temples among other renowned tourist attractions. Bargain hunters, antique collectors, and vintage fashion enthusiasts will definitely love what this colorful and vibrant multicultural society has to offer! Also, use this guide every time you want to savor some of the top attractions around Jonker Street, next time you visit Melaka.
Want to spend an unforgettable holiday in Melaka? Ramada Plaza Melaka is a 5-star world-class hotel in Melaka that ensures you spectacle and splurge on all the attractions around Jonker Street with a difference. Guests simply make their requests at the concierge desk and choose the shuttle service that suits them best, to take them to the major attractions and shopping centers around within a few minutes. Ramada Plaza Melaka strives to provide all guests a mind-blowing escapade with a touch of timeless luxury. For booking inquiries and more about our many personalized services, please visit our official site at http://www.ramadaplazamelaka.com.